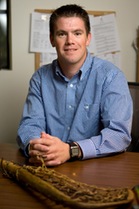 Meet Jon Thompson
A native of Freeport Maine, Thompson is a 2003 graduate of Brown University where he still ranks among the men's lacrosse program's top 10 in all-time goal scoring. Thompson, a former captain for the Bears, was a three-time All-New England selection while at Brown. He also earned both Ivy League All-Conference and All-Academic honors in 2002 and 2003, before capping his career as a USILA Honorable Mention All-American and a USILA Academic All-American in 2003.
Coach Thompson returned to Brown as a recruiting director and assistant coach in 2006 and spent 3 seasons there before coming back to Maine to lead the Mules of Colby College in Waterville. His two seasons at Colby College were the most successful seasons in the program's pervious 9 years.
In 2010, Coach Thompson headed to NESCAC rival Amherst college where he continues to field one of the best teams in that conference year after year.
WHEN DID YOU FIRST KNOW YOU LOVED LACROSSE?:
I knew I loved sports. I would literally play anything, anytime, any place. Basketball, Hockey, Soccer, Lacrosse, Baseball. I played all of them growing up and just loved them all. Lacrosse really first came into my life because of a wonderful man and mentor named Bruce Myers. Coach Myers always had a great eye for athletic ability and somehow he determined mine was the game of lacrosse.
Talk about a miracle maker!
* WHAT DO YOU FEEL IS THE BIGGEST DIFFERENCE BETWEEN HS AND COLLEGE LACROSSE? Confidence. Who has it, and who doesn't? I see guys all the time come from non traditional areas and 'wonder' if they can make it. Guys from traditional areas just 'know' they can make it. The one equalizer? Guys from non-traditional areas who play multiple sports. Those guys typically have an underlying confidence that they can achieve athletically, no matter who the opponent, or with whom they are competing.
* IF YOU KNEW WHAT YOU KNOW NOW WOULD YOU HAVE CHANGED ANYTHING IN YOUR PREPARATION TO PLAY LACROSSE IN COLLEGE?
No. Play three sports, play them all the time, and try and find the single best academic institution you can attend. This game of lacrosse is special, and you should honor it, and it's history by playing the game with pride, class, and respect. However, that doesn't mean you can't take from it also. Use lacrosse (if you honor it's traditions before hand) to help get you into the best academic institution possible.
* WHO WERE YOUR GREATEST INFLUENCES/ ROLE MODELS IN LACROSSE?:
Bruce Myers – was a coach at NYA. He is such a great man, and he is such a kind human. Peter Lasagna, head coach at Bates – formally at Brown. I often think about the people who are in my life who truly have altered the course of my life. These two men have literally altered my life forever. Without Bruce – I don't find lacrosse. Without Pete – I don't find Brown and don't find my wonderful wife, and don't pursue this wonderful career path. These two men have literally changed the course of my life. I am eternally grateful to them.
* WHAT WAS/IS YOUR FAVORITE DRILL?:
Anything with transition. I love to be creative and create my own drills. It's my favorite part of on field coaching. INNOVATION.
* WHAT IS YOUR FAVORITE THING TO WORK ON INDIVIDUALLY TO IMPROVE YOUR GAME? INNOVATION. I want to be on the cutting edge of motivating, influencing, inspiring and mentoring athletes. I think you mean the actual game of lacrosse – but my "game" now is to LEAD young men, and I work on that craft the same way I used to work on wall ball, and shooting.
* WHAT WAS YOUR MOST MEMORABLE EXPERIENCE ON THE LACROSSE FIELD?:
Coaching in Lincoln Financial Field in the 2019 National Championship game. Watching the joy on our guys faces while they were warming up, and watching the pain in their hearts after the game. Is there anything better than college sports?
* WHAT IS/WAS YOUR FAVORITE QUOTE/ SAYING?:
Expect Nothing, Earn Everything.
* WHAT ADVICE WOULD YOU GIVE YOUNG PLAYERS TODAY?:
Make a choice when you wake up every day. You have a choice before your feet hit the floor in the morning. Make the choice to A) not be a lacrosse Bro (that's a disgusting, but often true stereotype) and B) absolutely, utterly, and unequivocally CRUSH the day. Just attack everything you do. You'll never regret attacking the day. you'll almost always regret giving 50%.