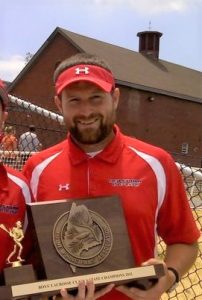 Meet Zac Barrett
Zac has been in the Maine lacrosse scene since 1994. He began playing in 7th grade with Back Bay Lacrosse Club, was a member of the inaugural Scarborough High School Varsity team, and lead the team in scoring from 1996-1999. Zac played club lacrosse at Ithaca College, and continues to play in various pick-up leagues and club teams.
In 1996, Zac helped start Scarborough Youth Lacrosse with his father. There were 6 kids in the program that first year, which grew to 25 in year two, and 100 kids grades k-6 by year three. Zac continued to coach for Scarborough Youth Lacrosse until 2008 when he became the 7th grade coach for Scarborough Middle School. In 2009, Zac joined Joe Hezlep at the High School as an assistant. Scarborough won State Championships in 2010,11,12,13,16 with Zac as the offensive coordinator. In 2018, he took over for Hezlep as the Head Coach of the Red Storm. Today he is focused on competing in an increasingly competitive high school lacrosse environment, and developing strong community ties among Scarborough Lacrosse alumni and the high school and youth programs.
Zac is a current board member for Maine Lacrosse Coaches Association, and helps to organize and run the Maine Underclassman Showcase.
IS LACROSSE STILL PART OF YOUR LIFE? IF SO, HOW?
Yes, it is a huge part of my life. As a high school coach here in Maine, I am always looking to grow the game in our area, as well as convey the unique aspects of the sport that I think make it special. No other sport has such a meaningful history, yet is still unknown to so many. So it is fun to be a part of something that is growing and evolving so rapidly.
I also continue to play on a weekly basis to both stay in shape and to get my competitive juices flowing. I once heard Gerry Byrne, who is the new Harvard coach, say that he felt it was important that he continue to play the game so he understood what he was asking his players to do on the field. For me, playing is how I stay connected to the younger and younger generations as I continue to coach.
WHEN DID YOU FIRST KNOW YOU LOVED LACROSSE?
When I was in 7th Grade I was poking around my attic and I came across my father's wooden sticks from when he played one season in high school. I think I fell in love on the spot. That Spring I joined Back Bay Lacrosse club and began to learn the game. I stunk at first, but picked it up quickly. I was a "hockey player" at the time, spending my summers going to hockey camps and clinics, but by my Junior year in high school I had shifted my focus to lacrosse.
WHAT DO YOU FEEL IS THE BIGGEST DIFFERENCE BETWEEN HS AND COLLEGE LACROSSE?
Once you get to college lacrosse it is apparent that the talent levels across the board are much more even. In high school there may be a huge disparity between the best players and the rest, but in college there are so many kids out there who can play. The difference between the best college players and the worst comes down to strength and conditioning, IQ, and attitude/heart.
IF YOU KNEW WHAT YOU KNOW NOW WOULD YOU HAVE CHANGED ANYTHING IN YOUR PREPARATION TO PLAY LACROSSE IN COLLEGE?
Yes, I would have been in the weight room, I would have studied film, and I would have worked harder on my overall conditioning. You can never be too prepared, and coming from a small program in Maine, I was already at a disadvantage when I stepped on the field for the first time in college. Ithaca College had a great program at the time, and I was competing with kids from Syracuse and Long Island area high schools. I wish I had come in more prepared.
WHO WERE YOUR GREATEST INFLUENCES/ ROLE MODELS IN LACROSSE?
Jeff Thoreck was my first high school coach. He and Chris Richards taught me everything I knew back then, and I was hungry for everything they gave me. I'll always be grateful for the time they took to teach me the game back then, when I knew so little.
Once I was fully hooked, Casey Powell became my biggest influence as a player. He was the kind of player that could beat a defense multiple ways…he was unstoppable. I wanted that for myself.
The list of current players that continue to inspire me is long, but I really respect Lyle Thompson because of his authenticity. He represents everything that is so great about this game. The fact that you can become one of the greatest lacrosse players of all time by just loving to play…I mean Lyle and his brothers got better by playing in their backyard. What a simple thing to just play for the love of the game, and reach the highest pinnacle of the sport. Nowadays there seems to be too much professionalism in kids sports, and not enough play. For better or for worse, Lyle reminds me to play and have fun, rather than take the game too seriously.
WHAT WAS/IS YOUR FAVORITE DRILL?
When I was in high school, we used to do this drill called "The Gauntlet." It would get me fired if I ran it today, but it was basically a chance for players to beat on each other. I loved the drill because it rewarded the player who could outwit the defender and get them off balance, getting by them with minimal injuries. I wouldn't endorse it now, mostly because there are better ways to teach that skill without making hamburger out of your offensive players' arms.
My favorite drill now is any drill that starts with a ground ball and turns into an attack on goal. In Scarborough, we do a lot of 1v1 GB to 2v3, 3v4, 4v5, etc. from all spots on the field. It gets a lot of different looks for each player, and it emphasizes moving the ball off of a GB.
WHAT IS YOUR FAVORITE THING TO WORK ON INDIVIDUALLY TO IMPROVE YOUR GAME?
Wall ball. There is no limit to what you can improve by getting better at throwing a ball off a wall. Non-lacrosse people don't get it, and too many lacrosse kids don't either. It's the single best thing you can be doing to improve your game.
WHAT IS/WAS YOUR FAVORITE QUOTE/ SAYING?:
"You can make mistakes, but you are not a failure until you start blaming others for those mistakes." – John Wooden
WHAT ADVICE WOULD YOU GIVE YOUNG PLAYERS TODAY?:
One of the most underrated skills in lacrosse is catching the ball. If you can catch everything, you will be a leading scorer, or one of the best defenders. Second most underrated skill is passing. Too many kids stop practicing passing when they can make a serviceable pass standing still with no defender on them…then they head to the cage to start ripping top swiss and fixing their tilt. The problem is they can't get their teammates the ball in the game, and they will never see the field.
My advice: Become a very accurate and efficient passer and catcher, especially when under pressure. Watch Grant Ament (Penn State) feed the ball, or Matt Gaudet (Yale) catch the ball. Have a teammate throw you bad passes, and catch everything! Then make sure every pass you throw during practices and games are delivered where they need to be.