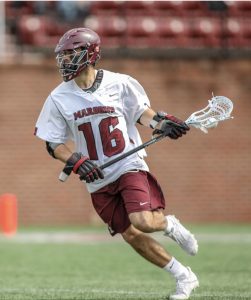 Meet George Gilbert
Falmouth High School 2016
Team Captain 2016
Class B State Champion 2016
Roanoke College 2020
IS LACROSSE STILL PART OF YOUR LIFE? IF SO, HOW?
Yes, lacrosse is still a huge part of my life. Being a senior in college and preparing for my last
season, lacrosse has begun to take up much of my life, and would not want it any other way.
WHEN DID YOU FIRST KNOW YOU LOVED LACROSSE?
I have been playing lacrosse since a very young age, following in my brother's and sister's
footsteps. I can't list a specific moment when I fell in love with lacrosse, but I know the speed
and fluidity of the game were what attracted me to it.
WHAT DO YOU FEEL IS THE BIGGEST DIFFERENCE BETWEEN HS AND COLLEGE LACROSSE?
I feel the biggest difference between high school and college lacrosse is the commitment and
preparation of each player. In high school, you're able to get by with your athletic ability and
little preparation for your opponents. While in college, mostly everyone is athletic, you have to
be able to separate yourself from the rest. Whether it's your stick skills, strength, or IQ. Also, the
level of preparation for each game is immensely different in college, breaking down and
watching film on yourself and other teams is another way of separating from the rest.
IF YOU KNEW WHAT YOU KNOW NOW WOULD YOU HAVE CHANGED ANYTHING IN YOUR PREPARATION TO PLAY LACROSSE IN COLLEGE?
I would have definitely taken my offseason and preparation much more seriously. Whether that
was lifting, shooting, or playing wall ball, I wish I had known what the level of commitment was
like in college.
WHO WERE YOUR GREATEST INFLUENCES/ ROLE MODELS IN LACROSSE?
My greatest influence in lacrosse was definitely my Dad. He was the one who introduced me to
the game and I was fortunate enough for him to be my coach during youth lacrosse and his love
for the game was definitely transferred on to me.
WHAT IS YOUR FAVORITE THING TO WORK ON INDIVIDUALLY TO IMPROVE YOUR GAME?
I really like working on my shot, whether I'm by myself or with people, it is very enjoyable and
can have a major impact on your game as well.
WHAT WAS YOUR MOST MEMORABLE EXPERIENCE ON THE LACROSSE FIELD?
Winning the state championship my senior year. Especially after the rollercoaster of a season
that we were having. It was a very cool experience to be on a team that was able to come
together as we did going into playoffs and being able to end my high school career with a win
was something very special
WHAT IS/WAS YOUR FAVORITE QUOTE/ SAYING?:
"Don't confuse activity with productivity"
WHAT ADVICE WOULD YOU GIVE YOUNG PLAYERS TODAY?:
Confidence is key, especially when going from high school to college, the game does get harder
but at the end of the day it's still lacrosse and having the confidence to perform has had a huge
impact on me personally.