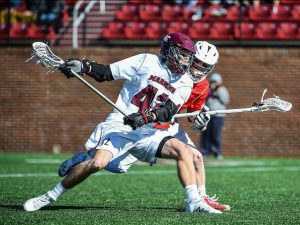 Meet IV Stucker
A 2018 graduate of Roanoke College, IV appeared in all 73 games for the Maroons while playing in two Old Dominion Athletic Conference (ODAC) championship games and making two NCAA Division III Men's Lacrosse Championship appearances. He made 61 starts and totaled 111 goals, 82 assists, 85 ground balls and 23 caused turnovers. He was a three-time USILA All-American and All-ODAC First Team selection.
As a senior, IV started 19 games while posting career highs in goals (37), assists (30), points (67), ground balls (26) and caused turnovers (7) while helping lead Roanoke to the ODAC finals and the second round of the NCAA tournament. As a senior, a first team All-American and All-ODAC selection, he was also named to the USILA North-South Senior All-Star Game.
IV attended Falmouth High School where he totaled 38 goals and 26 assists as a senior and was named Player of the Year by the Maine Sunday Telegram. He was also selected as an All-American by US Lacrosse in 2013 and 2014.
IS LACROSSE STILL PART OF YOUR LIFE? IF SO, HOW?
Lacrosse is still a huge part of my life. Outside of playing a bit still, I coached at Bates in 2019 and am currently a graduate assistant at Catholic University in Washington, DC.
WHEN DID YOU FIRST KNOW YOU LOVED LACROSSE?
I first knew I loved lacrosse when I was probably in 2nd grade when I went to my first college game when Syracuse played at Loyola. I grew up in Baltimore close to Loyola and Johns Hopkins and would go to games whenever I could. I grew up idolizing those guys.
WHAT DO YOU FEEL IS THE BIGGEST DIFFERENCE BETWEEN HS AND COLLEGE LACROSSE?
The biggest difference between high school and college lacrosse is the speed in all facets of the game. Guys get the ball in and out of their stick quicker, defensemen take away your time and space, and players are more decisive.
IF YOU KNEW WHAT YOU KNOW NOW WOULD YOU HAVE CHANGED ANYTHING IN YOUR PREPARATION TO PLAY LACROSSE IN COLLEGE?
If I knew what I know now, I would have gotten in the weight room earlier. My stick and lacrosse IQ had always been my strengths but when I got to college I couldn't get away with things physically that I could in high school. It took until my sophomore year to dedicate myself to actually putting in time to become a stronger, more physical athlete.
WHO WERE YOUR GREATEST INFLUENCES/ ROLE MODELS IN LACROSSE?
I have had tons of role models and influences throughout my lacrosse career. Some of the biggest influences as a player include Anthony Crimmins, Mike Lebel, John and Charlie Fay, and Bill Pilat. As a coach, Peter Lasagna gave me my first coaching opportunity and put me on a path that I didn't expect.
WHAT WAS/IS YOUR FAVORITE DRILL?
My favorite drill is anything with 2 man games, I love playing in pick & roll situations.
WHAT IS YOUR FAVORITE THING TO WORK ON INDIVIDUALLY TO IMPROVE YOUR GAME?
My favorite things to work on include anything dodging & shooting, specifically trying unique moves that help me get shots off from uncomfortable positions and angles. I always like to take moves from a basketball post up position and work it into my game. A lot of times you'll see guys just practicing time & room shooting but the guys that are able to set themselves apart are the ones who can generate their own shot and set up teammates.
WHAT WAS YOUR MOST MEMORABLE EXPERIENCE ON THE LACROSSE FIELD?
My most memorable experience on the lacrosse field is beating Lynchburg my senior year at Roanoke at home. We had a pretty great rivalry with them and we hadn't beat them in three years. Both of our teams were usually ranked in the top 20 and was a heated rivalry. I loved playing against them.
WHAT IS/WAS YOUR FAVORITE QUOTE/ SAYING?:
My favorite quote these days is one I heard from Dabo Swinney recently, "How you do anything, is how you do everything."
WHAT ADVICE WOULD YOU GIVE YOUNG PLAYERS TODAY?:
Some advice I'd give young players today, just get your stick in your hand as much as possible and watch as much as you can on YouTube, TV, and in person. Imitate the guys that you want to be like in the backyard and fall in love with wall ball.