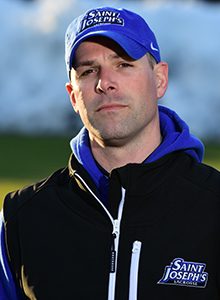 Meet Geoff Arris
Geoff played lacrosse as an attackman and graduated Freeport High School in 1998. 

Attended and played at Plymouth State College  for 4 years until 2003

Head Coach at Freeport High School 2008-present. 

Assistant Coach at Saint Joseph's College 2016-present

Geoff is also the current MLCA President, a Back Bay Lacrosse Coach, and a 4Leaf Lacrosse Coach

He lives in Portland with wife Amy and two kids, Caleb and Chloe.  


IS LACROSSE STILL PART OF YOUR LIFE? IF SO, HOW?

Very much so! I'm currently entering my 12th season as the Head Varsity Coach at Freeport High School. I'm also an Assistant entering my 4th season at Saint Joseph's College. I also Coach for such a great program with 4Leaf Lacrosse, and also Coach here in Portland for my son's Back Bay Lacrosse team.


WHEN DID YOU FIRST KNOW YOU LOVED LACROSSE?

My mom was a woman's lacrosse coach at Freeport when I was in elementary and middle school. My sister was also playing and was one of the best to come through Freeport. I use to go to their practices and the boys teams were playing as well. I was a baseball player until 7th grade when I realized I wasn't a stand around kind of kid. The game looked fast and really fun. I had a stick given to me to be a ball boy and I never went back to baseball.


WHAT DO YOU FEEL IS THE BIGGEST DIFFERENCE BETWEEN HS AND COLLEGE LACROSSE?

Speed, IQ, and the ability to use both hands. Lacrosse is a game that is ever growing. At the college level you must be able to use both hands and have an IQ that is constantly growing. The players are faster. They run harder and move the ball faster.


IF YOU KNEW WHAT YOU KNOW NOW WOULD YOU HAVE CHANGED ANYTHING IN YOUR PREPARATION TO PLAY LACROSSE IN COLLEGE?

Absolutely. I was a lefty attackman. I didn't learn to use my off hand until I was basically out of college. I played two years as an attackman at Plymouth State and my final two years as an LSM. I would have paid more attention to how Defense was played and really worked on my off hand.


WHO WERE YOUR GREATEST INFLUENCES/ ROLE MODELS IN LACROSSE?

Rick Mullins and Bob Watson as my high school coaches. They helped instill the love I have for the game and the desire to teach it to others.


WHAT WAS/IS YOUR FAVORITE DRILL?

Any ground ball drill. I loved going as hard I could after one.


WHAT IS YOUR FAVORITE THING TO WORK ON INDIVIDUALLY TO IMPROVE YOUR GAME?

Now that I'm a Coach, I really focus on my IQ. I try to listen to everyone I surround myself with. I'm fortunate enough to Coach with amazing coaches that I'm constantly learning from. 


WHAT WAS YOUR MOST MEMORABLE EXPERIENCE ON THE LACROSSE FIELD?

As a player, playing against Bowdoin as a freshman for the ECAC tournament and learning a new position and earning a starting spot.

As a coach, watching my son play in the #SteelStrong game at Freeport. The amount of community support was overwhelmingly beautiful.


WHAT IS/WAS YOUR FAVORITE QUOTE/ SAYING?:

"The toughest opponent you'll ever face doesn't wear a uniform. It's a voice that says, That's not good enough! When you hear it, you'll know that the hard work is just starting"


WHAT ADVICE WOULD YOU GIVE YOUNG PLAYERS TODAY?:

Effort goes further than you think. Whenever a stick is in your hand, go hard. Don't just go through the motions.  Play hard and with a purpose. Every time. No matter what.