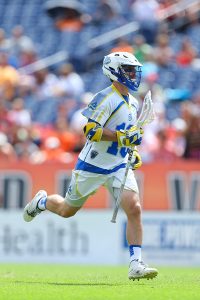 Meet Cameron Lao-Gosney
Cam started playing lacrosse in high school at Hebron Academy. He played 4 years of varsity and graduated in 2007. • He then went on to play varsity lacrosse at Avon Old Farms during a post-graduate year in 2008. • Recruited to play Division 1 lacrosse at Lehigh University. Played 4 years as a starting midfielder. A senior year captain, leading the team to their first ever Patriot League Championship. Graduated in 2012.
• Drafted into the MLL by the Charlotte Hounds in the summer of 2012. Traded to the Hamilton Nationals later that summer. • Played in the NALL indoor league for the Boston Rockhoppers in 2013, winning the championship. • Played in the Champion Challenge Tournament for Team USA in 2013. • Continued playing in the MLL for the Florida Launch until retiring at the end of the 2016 season.
IS LACROSSE STILL PART OF YOUR LIFE? IF SO, HOW?
Yes it is. As a player, I keep in shape by running with a men's league team in NYC where I live. As a fan, I still enjoy watching collegiate and professional lacrosse. As a filmmaker, I create video content that I hope will inspire younger players. Though I'm no longer playing at an "elite" level, I still love playing the game and aim to do so until the my hips give out. I'm also still chasing that perfect goal, that perfect game…
• WHEN DID YOU FIRST KNOW YOU LOVED LACROSSE?
Growing up, I was a big hockey player. I took it very seriously for many years and by the time I was in high school, I was pretty burned out. One of my hockey coaches suggested lacrosse and I remember playing in the driveway with my brother early on. We started firing the ball at each other, faster and faster, to see who would drop it first. Neither of us did. I remember then that this was something I could love doing. Fast forward to my first lacrosse season– the stress and that 'burned out' feeling I once had for hockey wasn't there.
• WHAT DO YOU FEEL IS THE BIGGEST DIFFERENCE BETWEEN HS AND COLLEGE LACROSSE?
Commitment. You have to commit more time and energy simply to perform at the team's average level. If you don't love it, you'll find out quickly that it may not be worth it. It's no longer something fun to do in the Spring…players want to get better, they want to be the best, they want to win. You have to sacrifice the time you would normally spend doing other things, in order to do it…but it's worth it.
• IF YOU KNEW WHAT YOU KNOW NOW WOULD YOU HAVE CHANGED ANYTHING IN YOUR PREPARATION TO PLAY LACROSSE IN COLLEGE?
I would've amped up my training regimen and I would've hit the wall more. The 1st college practice I experienced was insanely eye-opening. We practiced hard for 2 hours at a pace that was faster than I was used to, then sprinted right into the weight room for an hour lift, and finished with a 'team ab circuit' (which was basically a torture technique). I was pushing against my fitness barriers right away and it would've been nice to come in in even better shape.
• WHO WERE YOUR GREATEST INFLUENCES/ ROLE MODELS IN LACROSSE?
Mikey Powell, Kyle Harrison, and Paul Rabil. All three were explosive dodgers that could create opportunities themselves to change the course of a game. I wanted to break down defenders like they could. They were all different dodgers with different body types (which is great about lacrosse) and they each found a way to use their strengths. Most importantly, when the game was on the line, they wanted the ball. They embraced the risk.
• WHAT WAS/IS YOUR FAVORITE DRILL?
It was easier for me to train considering I had a built in training-partner in my twin brother. So that's my first note…find someone who's as dedicated to getting better as you are, because it'll only help to push your game forward. In regard to a favorite drill, I remember my shot improving immensely because of a 'quick-shot' drill my brother and I would set up. The purpose of the drill was simply to catch a pass from your partner and get it in-and-out of your pocket AS QUICKLY AS POSSIBLE.
Sometimes this meant only one cradle, sometimes it meant NO cradle. Pick a single spot (i.e. top left) and shoot for it 10 times. Then switch the shooting location. Later, switch your location on the field. Another layer is to have your partner purposely throw some bad passes, so you have to adjust on the fly just like a game. It's a simple drill, but very effective. If you watch the Thompson Brothers' shoot, you'll see how beneficial it is to get a shot off quick.
• WHAT IS YOUR FAVORITE THING TO WORK ON INDIVIDUALLY TO IMPROVE YOUR GAME?
I love, and have always loved, working on strange and unpredictable shots. This is probably the case now more than ever because I'm retired and washed up, but you really never know when you'll need to shoot 'around-the-world' while diving cross crease as a defender is sliding, until the opportunity presents itself. The game is always changing, why not be ready for that?
• WHAT WAS YOUR MOST MEMORABLE EXPERIENCE ON THE LACROSSE FIELD?
Winning the Patriot League Championship in 2012 and then going on to play Maryland with home field advantage in the first round of the playoffs (Lehigh was ranked #6 in the country at the time). It was a whirlwind of emotions, especially considering that my first 3 seasons at Lehigh weren't great in terms of wins and losses. That moment in 2012 was the culmination of years of culture change at Lehigh. A lot of pain and sacrifice went into it, but it paid off.
• WHAT IS/WAS YOUR FAVORITE QUOTE/ SAYING?
"We are what we repeatedly do. Excellence, then, is not an act but a habit." It's a quote by Will Durant (often misattributed to Aristotle) which used to hang above the doorway to my room growing up. It subverted the way in which I viewed a spectacular play– it was no longer just the gutsy game-winning goal that I saw, but the hours of dedication that prepared him/her for that exact moment.
• WHAT ADVICE WOULD YOU GIVE YOUNG PLAYERS TODAY?
Why the hell not you? Our lives are limited and no one is entirely certain what's to follow, so why not put all your chips on red and let it ride? Don't listen to the nay-sayers, you'll encounter tons of them, but their aim to bring you down is only a function of the fear they have to take their own risks. Protect your dreams, they're fundamental to who you are at your core; eat with them, sleep with them, train with them…and when the time is right, you'll be ready. Why the hell not you?