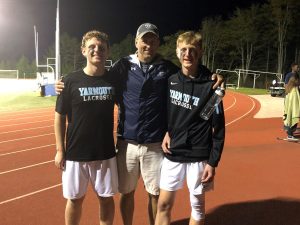 Meet Peter Senger
Played HS lacrosse at Cape Elizabeth, All-State, All-New England senior year (1989)
College – 4 year letter winner at University of Notre Dame. Played in every game all 4 years. 3 time NCAA Tournament participant.
Coaching – 12 year youth lacrosse coach/coordinator in Yarmouth. 2 year coach with LaxPros/4Leaf
Lives in Yarmouth, with his wife and 2 boys (Connor – freshman at Texas Christian University (TCU) playing club lacrosse and Colin – junior at Yarmouth HS)
IS LACROSSE STILL PART OF YOUR LIFE? IF SO, HOW?
Lacrosse is still a big part of my life…I helped coach youth lacrosse for over 12 years in Yarmouth and still coach summer and fall travel teams for 4Leaf Lacrosse. In addition, I continue to play in 2 weekly leagues – 1 Sunday morning with other adult players and the other on Wednesday evenings with a combination of adults, college players and HS players thru LaxPros. I especially enjoy the Wednesday box lacrosse sessions because I have been able to play with and coach dedicated younger players (including both my boys).
WHEN DID YOU FIRST KNOW YOU LOVED LACROSSE?
After 7th grade, my family moved to Rhode Island to a school that didn't have lacrosse – I immediately realized how much I missed the sport. When we moved back to Maine a year later, I was fortunate enough to come back to community that offered lacrosse.
WHAT DO YOU FEEL IS THE BIGGEST DIFFERENCE BETWEEN HS AND COLLEGE LACROSSE?
The consistency across the board in college is much different than HS. In college, everyone is strong, fast, athletic and has great stick skills. The players in high level college programs have very few weaknesses.
IF YOU KNEW WHAT YOU KNOW NOW WOULD YOU HAVE CHANGED ANYTHING IN YOUR PREPARATION TO PLAY LACROSSE IN COLLEGE?
When I got to college, I was switched to LSM after playing short stick in HS. I would have definitely picked up a long stick much earlier in HS if I had known the position change was forthcoming.
WHO WERE YOUR GREATEST INFLUENCES/ ROLE MODELS IN LACROSSE?
I wouldn't have been able to get involved with lacrosse without 3 key people – John Fay, Charlie Burch and Kevin Corrigan. John had just graduated from UNH and was a volunteer coach for my 7th grade team back in 1984 – he instilled the love of the game in us. Charlie was my HS coach and the first that believed in me and my ability to play Division 1 lacrosse. Kevin Corrigan was my coach at Notre Dame (where he still coaches today) and took a chance on a kid from Maine. All 3 of them embody the best of the lacrosse world – dedicated to the sport and developing players on and off the field.
WHAT WAS/IS YOUR FAVORITE DRILL?
West Gennee 3v2 is my favorite drill – highly competitive, quick pace, conditioning, competition – it has it all.
WHAT WAS YOUR MOST MEMORABLE EXPERIENCE ON THE LACROSSE FIELD?:
As a coach and parent, the most memorable experience was watching Yarmouth win the state championship in 2019 since my 2 sons were on the team along with many kids I had coached in youth lacrosse. As a player, the most memorable moment was walking off the field at Klockner Stadium at UVA in 1993 after losing in the 1993 NCAA tournament, knowing I would never play with my college teammates again.
WHAT IS/WAS YOUR FAVORITE QUOTE/ SAYING?:
"Whoever said 'winning isn't everything' probably lost" – Martina Navratilova
WHAT ADVICE WOULD YOU GIVE YOUNG PLAYERS TODAY?:
Play multiple sports but don't put your stick away during the "off season".