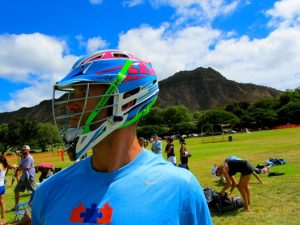 Meet Malcolm Chase
After graduating from North Yarmouth Academy, Coach Chase played at Whittier College in southern California. He coached as an assistant at Roanoke, Connecticut College, and the University of Southern Maine where was voted Little East Coach of the Year.
He played professionally for the LXMPRO Tour, the Boston Cannons, and the Vermont Voyageurs
IS LACROSSE STILL PART OF YOUR LIFE? IF SO, HOW?
Yes a significant part of every day! I have been lucky enough to convert my college/pro experience to my day job training college-bound athletes throughout New England. I also appear on Lax Sports Network as an analyst, and do color commentary for college and MLL games. I also coach clinics for Boston based clubs such as 3D, Laxachusetts, Clams, and Kings Lacrosse
WHEN DID YOU FIRST KNOW YOU LOVED LACROSSE?
The first day my coach switched me to defense and used my new STX Dominator at NYA practice. A bigger stick translated to more fun for me.
WHAT DO YOU FEEL IS THE BIGGEST DIFFERENCE BETWEEN HS AND COLLEGE LACROSSE?
Speed and IQ. We emphasize this daily in our training and watch game film to help our all stars understand that everyone can play at the next level.
IF YOU KNEW WHAT YOU KNOW NOW WOULD YOU HAVE CHANGED ANYTHING IN YOUR PREPARATION TO PLAY LACROSSE IN COLLEGE?
Are you kidding? I would smack my high school self upside the head! While I found strength training to be a game changer, I was overtraining and not paying enough attention to recovery and mobility. These important components are now a staple of the RPM Athlete methodology, as well as my own preparation.
WHO WERE YOUR GREATEST INFLUENCES/ ROLE MODELS IN LACROSSE?
I used to watch Ric Beardsley in the NCAA champs on VHS every day after school. I loved his flashy style and ability to terrorize attackmen. After watching, I would practicing his takeaway checks on my brother and his friends in our backyard.
WHAT WAS/IS YOUR FAVORITE DRILL?
I have a chop/drop Step cone drill that you can find in the NELJ archives. We also do check work on the "Wing Chun" at our facility in Newton. This is a large iron pullup device with multiple prongs we use as targets. The basic idea is to coordinate lightning quick movement with your stick and keeping your feet moving simultaneously.
WHAT WAS YOUR MOST MEMORABLE EXPERIENCE ON THE LACROSSE FIELD?
Has to be my first run with Wimmer Solutions in Hawaii. I got to run with Gary Gait, Max Seibald, John Galloway, and Kyle Hartzell, to name just a few. We beat Dirty Lacrosse, which featured Thompson brothers, Curtis Dickson, Stephen Keough- pretty much Team USA vs Team Canada. We won 5-4 in an absolute battle. It was surreal and I was literally crying tears of joy after the game. This was a dream come true.
WHAT ADVICE WOULD YOU GIVE YOUNG PLAYERS TODAY?
Resist specialization and play other sports! Soccer and Hockey afforded me numerous transferable skills by the time I started playing lacrosse in high school.