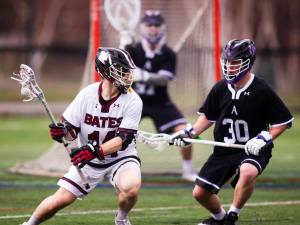 Meet Curtis Knapton
Curtis played four years of varsity lacrosse including two as a captain at Westbrook High School. He was two-time all-SMAA including first team all-SMAA and SMAA player of the year his senior year. He was the Portland Press Herald Maine State player of the year, first team all state, and an All-American as a senior as well.
Curtis currently plays at Bates College where he has played all four years, moving from defensive midfield as a freshman to now playing offensive middie. He's a two-time captain at Bates and was awarded 2nd team all-NESCAC as a junior, as well as being an Honorable Mention All American as a junior.
IS LACROSSE STILL PART OF YOUR LIFE? IF SO, HOW?
– Lacrosse is still a huge part of my life. I'm lucky enough to be one of the captains for my team at Bates and it's a big part of how I spend my time at school. I play, watch, train for, or talk about lacrosse in some sense every day.
WHEN DID YOU FIRST KNOW YOU LOVED LACROSSE?
– When I would be sitting at home wanting to go out and play and work on my game. I never really had that with other sports. Staying up late watching YouTube or playing wall ball was always something I wanted to do with my time, it never felt like "practice".
WHAT DO YOU FEEL IS THE BIGGEST DIFFERENCE BETWEEN HS AND COLLEGE LACROSSE?
– Speed. Everyone slides faster, runs faster, throws the ball faster, and shoots faster. It's the toughest adjustment but once you catch up and immerse yourself in it makes the game far more enjoyable and exciting.
IF YOU KNEW WHAT YOU KNOW NOW WOULD YOU HAVE CHANGED ANYTHING IN YOUR PREPARATION TO PLAY LACROSSE IN COLLEGE?
– Spend just as much time practicing playing off the ball as with the ball in your stick. The easiest way to get time early in college is by being an opportunistic cutter who can catch and finish. Scoring goals by cutting and finding shooting lanes is far easier than running by someone most of the time.
WHO WERE YOUR GREATEST INFLUENCES/ ROLE MODELS IN LACROSSE?
– I have a ton, I try to steal some aspect of everyone's game that I play with or against. My biggest influences are IV Stucker, Kyle Weber, Charlie Fay, and professionally, Tom Schreiber. They all play offensive midfield in such different ways but have all had crazy amounts of success. Seeing their work ethic and how they talk and think lacrosse has had a huge impact on me and my game.
WHAT WAS/IS YOUR FAVORITE DRILL?
– Anything short-sided. I love spacing the field out and playing a ton of 2 man game. At Bates we run a 4 on 4 drill from sideline to sideline that has a ton of box influence, gives you a billion touches, and makes you play some defense. That's probably my favorite.
WHAT IS YOUR FAVORITE THING TO WORK ON INDIVIDUALLY TO IMPROVE YOUR GAME?
– Shooting and catching. Being able to handle tough passes is so underrated. I like to shoot from the outside so I'm always working on stepdowns with both hands as well as shooting on the run with both hands.
WHAT WAS YOUR MOST MEMORABLE EXPERIENCE ON THE LACROSSE FIELD?:
– Beating Tufts by 1 at Tufts my freshman year was really cool. Both teams scored a bunch of goals, the crowd was pretty wild, and there were All Americans all over the field. That was my first game in college where I was like "Holy crap I'm actually doing it".
WHAT IS/WAS YOUR FAVORITE QUOTE/ SAYING?:
– Slow is smooth, smooth is fast.
WHAT ADVICE WOULD YOU GIVE YOUNG PLAYERS TODAY?:
– Work on your weaknesses as much as your strengths, don't be afraid of constructive criticism, and love the opportunity to play against people that are better than you.