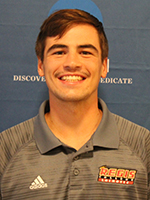 Meet Cam Glover
Brunswick Class of 2015
Springfield Class of 2019
IS LACROSSE STILL PART OF YOUR LIFE? IF SO, HOW?
Lacrosse is still an integral part of my life. I am a full time Graduate Assistant at Regis College in Weston, MA. In terms of getting on the field, I play in a Tuesday night box league in the Cape. It is a great way to continue to compete against really strong players from the MLL, PLL, and high level colleges. I can also say I have seen almost every lacrosse highlight on YouTube from 2015 to date, so watching lacrosse takes up a lot of time in my life as well.
WHEN DID YOU FIRST KNOW YOU LOVED LACROSSE?
8th – 9th grade, I was always a three sport athlete growing up. Soccer was my first priority until I got burnt out from doing the travel circuit for so many years. Right around that time I picked up travel lacrosse for the first time, and I had an opportunity to play at the varsity level as well. Between playing summer ball with guys from all around the state, and working six days a week toward winning a state championship- I knew lacrosse was my main sport.
WHAT DO YOU FEEL IS THE BIGGEST DIFFERENCE BETWEEN HS AND COLLEGE LACROSSE?
There is a lot, but the most overwhelming difference is how much bigger, stronger, and faster players are compared to the HS level. Players shoot harder because they are stronger, teams push transition faster, defensemen make contact harder, Goalies have faster hands, dodgers are more explosive, basically all physical aspects of the game go up in pace and physicality.
IF YOU KNEW WHAT YOU KNOW NOW WOULD YOU HAVE CHANGED ANYTHING IN YOUR PREPARATION TO PLAY LACROSSE IN COLLEGE?
I would have trained toward my speed and agility much harder. I am not a physical player. I think it is important to know what type of player you are and the role you play on your team. Not to put limitations on yourself, but to know how to put yourself in spots/situations where you can be the most effective. Knowing I was a small, quick, dodging midfielder, who rarely lowered my shoulder into guys, meant I did not need to squat 450 pounds or bench 300 pounds. Obviously I needed to be strong, but the advantage I had over other players was my speed and agility. I wish I had worked more on the strengths because I used them much more frequently in a 60 minute game.
WHO WERE YOUR GREATEST INFLUENCES/ ROLE MODELS IN LACROSSE?
Don Glover, Christian Glover, and Aiden Glover.
WHAT WAS/IS YOUR FAVORITE DRILL?
Any high repetition shooting drill, especially one with a live goalie.
WHAT IS YOUR FAVORITE THING TO WORK ON INDIVIDUALLY TO IMPROVE YOUR GAME?
Shooting. I take a lot of pride in my fundamentals and shooting mechanics. Being a shooter who can stretch a defense and draw the attention of their defenders on and off ball, really opens up other aspects of my game and my teammates around me.
WHAT WAS YOUR MOST MEMORABLE EXPERIENCE ON THE LACROSSE FIELD?
Two most memorable. In HS- Ending Cape Elizabeth's 3 year undefeated streak in overtime 16-15 at Bowdoin College, after losing 18-2 the year prior. We then completed our undefeated season with a revenge state championship win over South Portland at Fitzpatrick Stadium. In college- Rallying from a 7-1 deficit in the first quarter, to beating the 8 team in the country in overtime of the NCAA tournament. Scoring the OT winning was the best goal I have ever scored in my life.
WHAT IS/WAS YOUR FAVORITE QUOTE/ SAYING?
Shoot to get hot, shoot to stay hot.
WHAT ADVICE WOULD YOU GIVE YOUNG PLAYERS TODAY?
Find two other teammates or family members, and ask for 20 balls & a gym membership for Christmas.