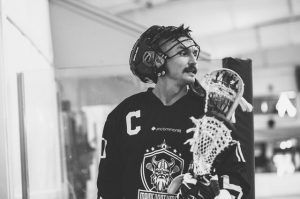 Meet Kyle Baker
Kennebunk Class of 2006
Holderness School 2007
USM Class of 2013
Played for Belgium in 2018 World Games
Former UNE Assistant Men's Lacrosse Coach
Founder/Player of the National Champion Maine Northmen
IS LACROSSE STILL PART OF YOUR LIFE? IF SO, HOW?
Lacrosse is still a huge part of my life! In fact… playing, coaching, and advocating for the game of lacrosse is my true passion, my career, and my medicine. On my priority list these days, lacrosse only comes second to one thing in my life and that is my family.
WHEN DID YOU FIRST KNOW YOU LOVED LACROSSE?
I played lacrosse for many years before I think I knew I truly loved it and that is simply because it was "just my spring sport." I grew up in a hockey family and lived and breathed hockey for the majority of my youth and HS years. I truly fell in love with lacrosse later in my career as I became more experienced and in tune with the history of the game, it's tradition and spiritual roots to Mother Nature and the world we live in, and its cultural importance and purpose to the native people who accepted the game as a gift from their "creator."
WHAT DO YOU FEEL IS THE BIGGEST DIFFERENCE BETWEEN HS AND COLLEGE LACROSSE?
There are obviously many differences between the HS and College game, but I would say many of them stem from the size of the "pond" or player pool. In HS lacrosse, especially in Maine, if you're a skilled and athletic player on your team then there's a good chance you are a starter or top contributor(big fish, small pond). In college and pro lacrosse, especially at the highest levels, the player pool is huge. In order to play and contribute at those high levels, a player must have certain intangibles that sets them apart. Everyone is strong, fast, has stick skills, knows the game, etc. So, players who have the "extras" like work ethic, coachability, grit, lax IQ, adaptability, etc. will be the ones who coaches want on their teams and on the field when it matters.
IF YOU KNEW WHAT YOU KNOW NOW WOULD YOU HAVE CHANGED ANYTHING IN YOUR PREPARATION TO PLAY LACROSSE IN COLLEGE?
Most definitely. I would've cared more and focused more on the sport itself. Even though I was a triathlete in HS, I still would have considered myself specializing back then because in my mind at the time, nothing mattered but hockey. I would have put more effort into getting better in the off season and opened my mind more about opportunities in the future.
WHO WERE YOUR GREATEST INFLUENCES/ ROLE MODELS IN LACROSSE?:
For field lacrosse, I would say Charlie Burch and his two step sons Nick and Pat Myers. Nick and Pat, both current D1 coaches at OSU and Lafayette, played at Kennebunk with my older brother and were the reason he made the switch from baseball back in 1997. As a 9 year old, whatever my brother did, I copied, so… bye baseball. Coach Burch was their coach and then my coach for my HS career at KHS. Coach Burch's passion for lacrosse resulted in the growth of my respect and interest in the game moving forward. Eventually, I ended up coaching with Charlie as his top assistant and Offensive Coordinator at UNE where I spent the last 4 fall and spring seasons. For Box Lacrosse, I would say Jeff Culkin and Randy Fraser. Jeff, a former player and coach from West Genesee, NY is the former owner and GM of the Vermont Voyageurs and without his support and passion for the game, I would not be the person or player I am today. Randy is a local box legend, who played at Springfield College before having a long and succesful NLL career. He coached me for the first time with team USA Indoor at the 2013 Bowhunter Cup vs. the Iroquois Nationals. I have valued his input and experience as a coach, teammate and mentor ever since.
WHAT WAS/IS YOUR FAVORITE DRILL?
For field lacrosse, any player I've played with or coached will tell you, I'm a big fan of shooting and/or dodging progressions. For box lacrosse, I'd have to say Live 2v2s are a favorite that always gets the fire going. Of course, Powerplay work is always fun too.
WHAT IS YOUR FAVORITE THING TO WORK ON INDIVIDUALLY TO IMPROVE YOUR GAME?
I'm a hands guy. I try and have my stick in my hands as much as I possibly can. Wallball and shooting reps in the back yard are part of the daily routine.
WHAT WAS YOUR MOST MEMORABLE EXPERIENCE ON THE LACROSSE FIELD?
For field lacrosse, I would say the entire experience of the World Lacrosse Championships in Israel last summer. Playing for team Belgium has been life changing and to be at that tournament, the largest international event in lacrosse history, was incredible. I got to play against some of the best in the world, including a fun and humbling scrimmage with Team Canada. We ended up finishing the tournament 4-4(best performance for Team Belgium) and I finished 9th in points and 3rd in goals within a player pool of over 800 from across the globe. For box lacrosse, I would most definitely say, going undefeated and finishing a perfect inaugural season with my own program, the Maine Northmen. The Northmen, Maine's first Semi-Pro Box Lacrosse program won both a RBLL New England Championship and the IBLA National Championship in our first season ever!
WHAT IS/WAS YOUR FAVORITE QUOTE/ SAYING?
"Success is not only for the elite. Success is there for those who want it, plan for it, and take action to achieve it." – Jim Brown
WHAT ADVICE WOULD YOU GIVE YOUNG PLAYERS TODAY?
My two biggest pieces of advice to all young players out there:
Keep that stick in your hands. A simple backyard goal setup and/or a wall or backboard to throw against can be all the tools a player needs to put in the work and take their game to the highest levels. If the desire to get better is present and the hours are put in, the results will undoubtedly show.
ALWAYS BE LEARNING. Absorb knowledge. Adapt to situations. Implement what you learn as you continue to grow your game. If a player or coach isn't actively looking to get better or learn more from more resources and think that they know it all, then they are wrong. Get reps and build experience. Experiential, hands on learning is the most effective and productive way to absorb and retain.