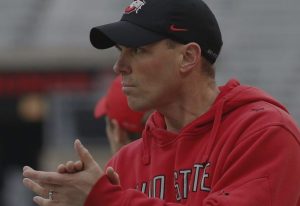 Meet Nick Myers, Head Coach Ohio State University
A native of Kennebunk, Maine, Myers graduated from Kennebunk High School in 1997. He was a two-time high school All-American and participated in the 1997 North-South All-Star Game.
Myers played for Springfield College, earning Division III All-America honors in 2001. He was a three-time All-NEWMAC selection and was the 2000 conference player of the year.
Myers graduated from Springfield with a degree in sports studies/physical education in 2001.
In 11 seasons at the helm of the Ohio State men's lacrosse program, Nick Myers has led the Buckeyes to be a very strong and successful Division 1 program year after year.
Nick coached Team USA to gold medal in 2016 FIL U-19 World Championship and will lead the team again in 2020
* WHEN DID YOU FIRST KNOW YOU LOVED LACROSSE?:
I was inspired by my stepfather Charlie Burch. He gave me my first stick and I was a ball boy for several state championship Cape Elizabeth teams. Fell in love watching those boys play the game
* WHAT DO YOU FEEL IS THE BIGGEST DIFFERENCE BETWEEN HS AND COLLEGE LACROSSE?
Off Field: Personal Discipline required to chase your best
On Field: Speed and strength required. Must recommit to making yourself better and love the pursuit of lacrosse excellence
* IF YOU KNEW WHAT YOU KNOW NOW WOULD YOU HAVE CHANGED ANYTHING IN YOUR PREPARATION TO PLAY LACROSSE IN COLLEGE?
Would not change a thing but I would have been more intentional my freshman. Meaning I wasted time pointing fingers vs. Thumb. Once I got my confidence back and starting really working at my game in a relentless way things really started to break for me. Hard work pays off. It's that simple
* WHO WERE YOUR GREATEST INFLUENCES/ ROLE MODELS IN LACROSSE?:
Charlie Burch
Fred Myers
John Kleopacki
Jason Miller
Keith Bugbee
Joe Breschi
Pat Myers
* WHAT WAS/IS YOUR FAVORITE DRILL?:
Love them all – Fall in love with the wall. That is the one drill that you can always find a way to rep!!
* WHAT IS YOUR FAVORITE THING TO WORK ON INDIVIDUALLY TO IMPROVE YOUR GAME?
Stick work!
* WHAT WAS YOUR MOST MEMORABLE EXPERIENCE ON THE LACROSSE FIELD?:
Competing for a National Championship in 2017 in Foxboro MA
Winning a World Championship at U-19 level with team usa and coaching alongside Pat Myers and Peter Toner
* WHAT IS/WAS YOUR FAVORITE QUOTE/ SAYING?:
"Too blessed to be stressed"
* WHAT ADVICE WOULD YOU GIVE YOUNG PLAYERS TODAY?:
Say less and do more
Love harder on yourself and teammates