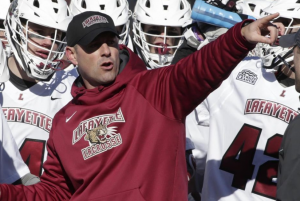 Meet Pat Myers
A native of Kennebunk, Maine, Myers graduated from Ohio State in 2003. He was the GWLL Rookie of the Year in 2000, a two-time All-GWLL selection and a three-time Academic All-Big Ten honoree. Following graduation, he played professionally for four seasons with the Boston Cannons of Major League Lacrosse.
His first full-time assistant coaching gig came at Cornell in 2005.
Myers then earned Patriot League experience while serving as an assistant at Bucknell University from 2006-08. In Myers' first year in Lewisburg, the Bison knocked off No. 1 Maryland to become the first Bucknell team in any sport to defeat a top-ranked team.
After Bucknell, Myers served as an assistant at North Carolina from 2009-14. While there, the Tar Heels posted a 69-30 overall record and qualified for the NCAA Tournament each season, including quarterfinal appearances in 2010 and 2013. North Carolina claimed the ACC title in 2013, the program's first championship in 17 years, earning Myers a promotion to the Associate Head Coach role for the 2014 season. UNC held the No. 1 ranking in three different polls at the end of the 2013 campaign, the school's first top billing in two decades.
As North Carolina's offensive coordinator, Myers coached two Atlantic Coast Conference Players of the Year (Billy Bitter in 2010, Marcus Holman in 2013) and two ACC Rookies of the Year (Holman in 2010, Nick Galasso in 2011). During his time in Chapel Hill, Myers saw four offensive players earn All-America honors (Jimmy Bitter, Ryan Creighton, Joey Sankey, Chad Tutton) on three separate occasions. UNC was fourth in the nation in scoring in 2013 (13.5 gpg) and 2014 (13.0 gpg).
As UNC's recruiting coordinator, Myers oversaw the signing of two classes that were ranked No. 1 by Inside Lacrosse (2010 and 2012), and a third class in 2011 that was ranked No. 2. His 2010 and 2012 recruiting classes included eight Under Armour All-Americans each.
From 2014-2018, Myers was the associate head coach at Penn. During his time in Philadelphia, Myers served as the offensive coordinator and recruiting coordinator. In 2016, Myers worked as an assistant coach with the United States Under-19 team for the 2016 FIL U-19 World Cup in Canada.
Myers began his first season last year as the head coach of the Lafayette men's lacrosse program.
* WHEN DID YOU FIRST KNOW YOU LOVED LACROSSE?:
Probably when my brother Nick and I started messing around in the backyard. I attended UMASS Lacrosse camp and played competitively for the first time and fell in love with the speed and physicality of the game. IT combined all the elements of various sports that I loved, and I was obsessed with the fact that I could improve my own game on my own, with a stick and a ball.
* WHAT DO YOU FEEL IS THE BIGGEST DIFFERENCE BETWEEN HS AND COLLEGE LACROSSE?
Speed of play, and overall the level of athlete. Things move a lot faster!
* IF YOU KNEW WHAT YOU KNOW NOW WOULD YOU HAVE CHANGED ANYTHING IN YOUR PREPARATION TO PLAY LACROSSE IN COLLEGE
I think the biggest thing is skill level, and developing your overall game against the best competition you can find. Weak hand, shot on the run, stick protection, just anything with your technical skill that you can improve on your own by working your butt off, and always keeping a stick in your hand. Attending instructional camps is the key!
* WHO WERE YOUR GREATEST INFLUENCES/ ROLE MODELS IN LACROSSE?:
My step-father Charlie Burch introduced the game of lacrosse to my brother Nick and I. He was a huge role model and influence for us. From there watching my brother develop his game and work at it was big, I was inspired. Casey Powell and Mike Watson were my two favorite players growing up that I would watch on TV and try to emulate in the backyard.
* WHAT WAS/IS YOUR FAVORITE DRILL?:
Island Dodging or Layup Shooting. Working on 7&7 or 8&8 as well as various dodging/shooting techniques from close range to build confidence.
* WHAT IS YOUR FAVORITE THING TO WORK ON INDIVIDUALLY TO IMPROVE YOUR GAME?
Definitely Wall Ball, no doubt about it! I used to walk down to the local grocery store that had a big brick wall and let it rip!
* WHAT WAS YOUR MOST MEMORABLE EXPERIENCE ON THE LACROSSE FIELD?:
Playing in the state championship in high school with my brother Nick. I loved playing beside him and even though we lost, I will never forget the bond we had on the field and getting to that moment together.
* WHAT IS/WAS YOUR FAVORITE QUOTE/ SAYING?:
DMGB "Doesn't matter, get better."
* WHAT ADVICE WOULD YOU GIVE YOUNG PLAYERS TODAY?:
Lacrosse is a creative game. Have fun, work on your own, explore, and hit the wall! Attend as many instructional camps as you can. It's the fastest game on two feet, and the shot clock has reenergized that notion. You control your destiny! Work hard!