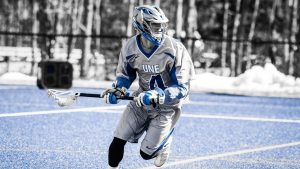 Meet Mitch Mullin

-Mitch grew up in Cumberland and started playing lacrosse in 3rd grade
 -4 years of Varsity lacrosse at Greely High School and was a two-year captain
– 4 years of Lacrosse at the University of New England and was a two-year captain 
-Joined the Maine Northmen last May and just won the National Championship with them earlier this month!
WHAT DO YOU FEEL IS THE BIGGEST DIFFERENCE BETWEEN HS AND COLLEGE LACROSSE?
Game speed and general game sense. The play is faster, and everyone has a better understanding of why they are doing things, where to be on the field and when.
IF YOU KNEW WHAT YOU KNOW NOW WOULD YOU HAVE CHANGED ANYTHING IN YOUR PREPARATION TO PLAY LACROSSE IN COLLEGE?
I would have focused more on my off hand, and being more than a one dimensional player. I would practice the things that I struggle with as to elevate my whole game rather than just focus on the aspects that I am good at.
WHO WERE YOUR GREATEST INFLUENCES/ ROLE MODELS IN LACROSSE?:
My greatest influence in lacrosse was my dad who played in high school and in college and coached me for many years, also Mikey Powell, I loved his play style and stick skills.
WHAT IS YOUR FAVORITE THING TO WORK ON INDIVIDUALLY TO IMPROVE YOUR GAME?  
 FOOTWORK, having a quick and explosive first step and change of direction raises your game very quickly. Also practicing realistic and specific scenarios when shooting, not just taking time and room shots from right in front of the goal.
WHAT IS/WAS YOUR FAVORITE QUOTE/ SAYING?: 
"Hard work beats talent when talent doesn't work hard"
WHAT ADVICE WOULD YOU GIVE YOUNG PLAYERS TODAY?:  
Simplicity is key, being flashy and fancy is great, but you need to lock down the fundamentals before moving on to more advanced moves. Don't over complicate your game.