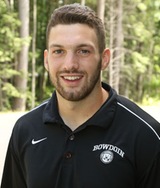 Meet Davey Pearson
Position: Goalie
Davey played Lacrosse at Scarborough High School and won 3 state Championships.
He went on to play at the University of New England in Biddeford and was a 3-year starter.
He received his Master's degree and coached lacrosse at Springfield College
Currently, he is an assistant coach at Bowdoin College
IS LACROSSE STILL PART OF YOUR LIFE? IF SO, HOW?
Yes, very much so! I Coach Lacrosse at Bowdoin College in Brunswick, Maine. Outside of this I've been coaching with various club programs starting from Maineiax, Pirates, LaxPros, 4Leaf, and Mussels.
WHEN DID YOU FIRST KNOW YOU LOVED LACROSSE?
I started playing the 4th grade, I didn't fall in love with the game until I decided to pick up a goalie stick (against my will) in 7th grade and fell in love with the position and being a part of that team atmosphere.
WHAT DO YOU FEEL IS THE BIGGEST DIFFERENCE BETWEEN HS AND COLLEGE LACROSSE?
Lacrosse is a lot faster in college, but the biggest difference to me was seeing the work you had to put in to become the player you wanted to be. You can't just "show up" at practices 3-4 times a week and become a better player. You HAVE to put in that extra work on your own.
IF YOU KNEW WHAT YOU KNOW NOW WOULD YOU HAVE CHANGED ANYTHING IN YOUR PREPARATION TO PLAY LACROSSE IN COLLEGE?
If I knew what I know now, I would have been more attentive about Xs & Os in high school and "how things worked" in a big picture. It seemed like in college not only did the pace of the game got faster but you had to know so much more in order to perform at the highest level.
WHO WERE YOUR GREATEST INFLUENCES/ ROLE MODELS IN LACROSSE?
Joe Hezlep- He was my High School/Club lacrosse coach. I got into coaching this game because of him. I will never forget my first practice sophomore year of high school he came up to me and says "I don't mess with goalies." Slowly but surely, we began to have a relationship that was not just lacrosse oriented.
Chris Richards- UNE goalie coach with decades of experience who just wants to see kids get better every time they put a stick in their hands.
WHAT WAS/IS YOUR FAVORITE DRILL?
I like to call it "PB GBs". unsure if the rest of the staff approves of the name. It's a 3v3 Gb (2v1 coming from each wing) and the team that wins the GB battle gets an extra man at the top of the box. This makes players have their heads up and find the open man rather than getting "tunnel vision" to the cage.
WHAT IS YOUR FAVORITE THING TO WORK ON INDIVIDUALLY TO IMPROVE YOUR GAME?
As a Goalie my favorite thing to work on was making saves and finding my quick outlets. Loved being able to make a save and instantly sending a ball on a fast break opportunity.
WHAT WAS YOUR MOST MEMORABLE EXPERIENCE ON THE LACROSSE FIELD?
Sophomore year of High School winning the State Championship with my older brother as a starting defenseman
WHAT IS/WAS YOUR FAVORITE QUOTE/ SAYING?
"Hard works beats talent when talent doesn't work hard" – Tim Notke
WHAT ADVICE WOULD YOU GIVE YOUNG PLAYERS TODAY?
The advice I would give to young players today is to always show up, play hard, and get better every time you play. You will never be the most talented player but you can be one of the hardest working players. It doesn't take talent to work hard!