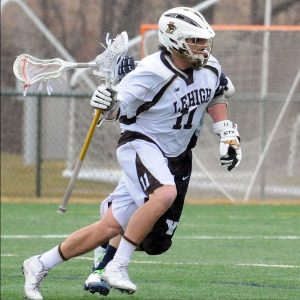 Meet ROMAN LAO-GOSNEY
Lacrosse Bio:
➔ Started playing lacrosse in high school at Hebron Academy. Played 4 years of varsity ball and
graduated in 2007.
➔ Played one year at Avon Old Farms during a post-graduate year.
➔ Was recruited to play Div. 1 at Lehigh University where he was Captain his senior year when the team won their first Patriot League Championship. Was
named 3rd Team All-American senior year.
➔ Drafted into MLL in 2012 by the Hamilton Nationals and played 2 years there.
➔ In 2013, played in the "Champion Challenge Tournament" for Team USA.
➔ Played for the Florida Launch for 3 years before retiring from the MLL.
● IS LACROSSE STILL PART OF YOUR LIFE? IF SO, HOW?:
○ Lacrosse is still a part of my life and I think I'll always find myself involved in the game in some
way or another. I'm currently playing in a men's league here in New York City with brother
Cam and another Maine product, Chris Hichborn. I'm also staying involved in the "film" side
of the game and am coming off directing a lacrosse commercial for the official ball and net
provider of the PLL. I want to continue highlighting interesting stories and athletes in the
sport.
● WHEN DID YOU FIRST KNOW YOU LOVED LACROSSE?:
○ I think I first knew I loved lacrosse sometime early in high school. I would throw around in my
driveway whenever I had the chance, morning or night, and it never felt like a chore to me.
● WHAT DO YOU FEEL IS THE BIGGEST DIFFERENCE BETWEEN HS AND COLLEGE
LACROSSE?
○ I think the biggest difference is the level of commitment and the speed of play. College players
are not only stronger and faster but they are more accustomed to the sacrifice and focus it takes
to compete for wins.
● IF YOU KNEW WHAT YOU KNOW NOW WOULD YOU HAVE CHANGED ANYTHING IN
YOUR PREPARATION TO PLAY LACROSSE IN COLLEGE?
○ Knowing what I know now, I would have gotten more involved in the box game to learn the
skills that style of play requires. There are different ways to approach the game and different
ways to be successful, but it can be hard to understand that perspective if you're only involved
with one style of play.
● WHO WERE YOUR GREATEST INFLUENCES/ ROLE MODELS IN LACROSSE?:
○ Kyle Harrison and Paul Rabil were the players I loved watching the most and definitely players
I tried to emulate on the field. I would watch them on tv and slow down their dodges or plays
over and over to see exactly how they were doing what they were doing. I was lucky enough to
see one of my role models become a teammate as I played on a line with Kyle in a USA
tournament game.
● WHAT WAS/IS YOUR FAVORITE DRILL?:
○ Other than 3v3 Goon Ball, I most enjoy just playing pass with my brother or a teammate
Having someone else to play with can help make drills more game-like (catching and shooting
off a pass, etc.) and can instill a sense of creativity and fun that can get lost with solo, wall-ball
training. Keep the fun alive!
● WHAT IS YOUR FAVORITE THING TO WORK ON INDIVIDUALLY TO IMPROVE YOUR
GAME?
○ More recently, probably because my body ain't as spry as it once was, I have been more drawn
to the intricacies of the inside game and working with picks, slips and rolls. I watch the box
game and work on the backhand passes and the tight handling it requires to pull those