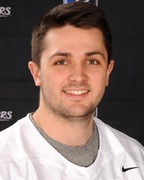 Meet Matt Brooks
Brunswick High School Midfielder, 2012-2015
Brunswick High School Lacrosse Captain
Maine Class A Lacrosse State Champion, 2015
Phillips Exeter Academy Midfielder, 2015-2016
Bentley University Midfielder, 2016-2020
Bentley University Lacrosse Captain
NE-10 Men's Lacrosse All-Rookie Team, 2017
NE-10 Men's Lacrosse All-Conference, 2019
NEILA First Team All-New England, 2019
* IS LACROSSE STILL PART OF YOUR LIFE? IF SO, HOW?:
* Lacrosse is very much a part of my life. I'm a senior on the Bentley University Men's Lacrosse team, and enjoying every minute, while I still can.
* WHEN DID YOU FIRST KNOW YOU LOVED LACROSSE?:
* I knew I loved lacrosse at the end of tryouts, my freshman season at Brunswick. Coach Glover guided not only myself, but hundreds of Maine 'athletes' into a love for lacrosse.
* WHAT DO YOU FEEL IS THE BIGGEST DIFFERENCE BETWEEN HS AND COLLEGE LACROSSE?
* Undoubtedly, the most drastic difference is the pace of play that teams play at in college, and the sophistication of team defenses.
* IF YOU KNEW WHAT YOU KNOW NOW WOULD YOU HAVE CHANGED ANYTHING IN YOUR PREPARATION TO PLAY LACROSSE IN COLLEGE?
* Had I known the importance of being a dual threat as a two-handed midfielder, I would have dedicated time to my left hand.
* WHO WERE YOUR GREATEST INFLUENCES/ ROLE MODELS IN LACROSSE?:
* Coach Glover, my coach at Brunswick, & Coach Glennon, My Coach and advisor at Phillips Exeter Academy.
* WHAT WAS/IS YOUR FAVORITE DRILL?:
* I've always had a bias to 4 v 4 drills in practice. You get to work on your 1 v 1 skills & team offense simultaneously, while still having space to move around and play.
* WHAT IS YOUR FAVORITE THING TO WORK ON INDIVIDUALLY TO IMPROVE YOUR GAME?
* Wall Ball. Weight Room. Other Sports. Shooting. The three facets of my game I rely on heavily are my deceptive stick skills, my shot power, and my strength. Wall Ball provides stick skills, the weight room & playing a multitude of sports recreationally helps with strength against an opponent, and practicing shooting helps with your mechanics and shot power. Not one of these four activities are less important than the other.
* WHAT WAS YOUR MOST MEMORABLE EXPERIENCE ON THE LACROSSE FIELD?:
* My Senior year at Brunswick High School, when we played Cape Elizabeth at Bowdoin College. We played a back and forth game against a very gritty, well-coached, and talented team. We were fortunate that Cam Glover and I's line mate, Owen Ginty, scored the final goal in a 17-16 instant overtime classic. Best atmosphere I've experienced while playing in a lacrosse game.
* WHAT IS/WAS YOUR FAVORITE QUOTE/ SAYING?:
* "The Man on top of the mountain didn't just fall there."
* WHAT ADVICE WOULD YOU GIVE YOUNG PLAYERS TODAY?:
* Trust your abilities when you're on the field. Lacrosse is a fluid game, and you play your best when you're not thinking too hard. Confidence is the only way you'll score goals, pick up groundballs, play tough defense, make great saves.