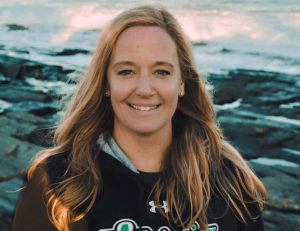 Meet LAUREN REID KANE
Deering High 02′ -All American 01′ and Honorable Mention 02′
UMaryland 02-03′
UMass 04-07′
USM Head Coach 2008-2013 – LEC Champs 2010, Runners up 2013 – LEC Coach of the Year 2010 and 2013
Bates Assistant Coach 2015, 2016, 2019, current
Maineiax Lacrosse Club Co-Owner, Co-Director 5 years +
* IS LACROSSE STILL PART OF YOUR LIFE? IF SO, HOW?:
* Lacrosse is a MAJOR part of my life these days, and I am SO thankful for that. It's been in my life for 23 years! I currently Co-Own and Co-Direct the Maineiax Lacrosse Club, I train lacrosse athletes in individual and small group sessions and plan/coach our training sessions and travel teams practices. I've put my focus on developing our youth teams this past year and have really enjoyed that. I am the Assistant Coach at Bates College, and I still play as well. I run our Portland Women's Lacrosse League and enjoy jumping in with the younger players both in college and out. I play on PG teams that travel to Lake Placid and Hawaii and hope to make it out to Tahoe and Vail this year as well. #stillgotit
* WHEN DID YOU FIRST KNOW YOU LOVED LACROSSE?:
* 6th grade. I was so bored with softball. My brother was a good baseball player, so I naturally thought I should play softball, but I couldn't get over how slow paced it was. A friend of mine invited me to try Back Bay Lacrosse and I dropped softball right there and was hooked instantly! It was challenging, fast, and I was blessed with an amazing first coach and great girls around me. There's a pizzazz around lacrosse that I didn't feel with soccer, basketball, track or softball. It's special and I was lucky enough to have the right skills to connect with it well and early.
* WHAT DO YOU FEEL IS THE BIGGEST DIFFERENCE BETWEEN HS AND COLLEGE LACROSSE?
* The speed, grit, and MENTAL toughness it takes. I could write a book on this question. You have to really believe in yourself. That comes from constant care and practice in refining yourself as an athlete in your sport. You can either make a hustle play and execute under pressure quickly, or you can't. Stick skills and strength and conditioning are always in your control, but your mental sharpness, ability to see the field, energy, excitement and attitude all count in a major way and will separate you, good or bad, in a group of teammates and opponents at either level. Heading to college is scary, but you usually know who you are a little bit better than you did heading into high school and have more confidence in your ability. College athletes are well developed physically and mentally, and this results in a much faster game.
* IF YOU KNEW WHAT YOU KNOW NOW WOULD YOU HAVE CHANGED ANYTHING IN YOUR PREPARATION TO PLAY LACROSSE IN COLLEGE?
* I would have been on a wall even more, played in more games, trained even harder to get in the best shape I could have, and made myself more knowledgable about how to strength train for injury prevention and longevity. I wish I could have watched more film of myself playing to break down the small things as well. I think players use that tool so much more to their advantage now then we used to. I would have watched even more high level games whenever I could have. The more you watch the game, the more you understand how to do when you play yourself.
* WHO WERE YOUR GREATEST INFLUENCES/ ROLE MODELS IN LACROSSE?:
* My first Back Bay coach, Sharon Sesling-Labonte, made the sport for me. She had so much fun with us, gave us nicknames, forced us to make friends with girls from other towns we didn't know, and taught us all the fundamentals as well as she could. She lit my fire for lacrosse, but also for enjoying the time you spend around your teammates and your sport.
* There was a girl, Jenny Wing, who was a senior at Yarmouth when I was a freshman in high school at Deering and she was dirty. She played lacrosse like football and ballet came together and I remember loving her style. But before that, I remember being in middle school watching Casey Powell rip rope on a net at the field at NYA at a camp Charlie Juris put together for us. It blew me away and I was so inspired to play with power and play big all the time after watching him. I had his signed poster on my wall all through middle school and high school.
* My all time favorite is Jen Adams. She was unstoppable at UMaryland and I watched all the games I could. I went to the camp each summer I could afford to, and was lucky enough to be recruited and play there when she was an Assistant to Cathy Reese and Cindy Timchal. Her approach, energy, talent, and ability to teach me was one of the biggest gifts in my life.
* WHAT WAS/IS YOUR FAVORITE DRILL?:
* I love a good build up drill. Can't get enough of them. One of my favorite's is one that the girls on the USA team love. 2v1, 3v2, 4v3 build up that starts and stays inside the 8 meter. A coach with a bucket of balls is at the 12 meter and tosses a new ball in on a whistle any time there is a drop, a missed shot, or a goal. There's no time to hang your head, watch a ball, or daydream. It works so much on reaction and communication quickly that you get this awesome ball of energy off of it. Each ball in releases a new defender and a new attacker until you're at 4v3. Attackers don't move their feet and hold their space to encourage the ball doing the work, being deceptive, and finding the open player. Defenders are forced to talk early, often, and cover great space on their slides, working on hedging towards the ball and the easier passing lanes to take a lot away. The goalies don't get a moment to pout if they let one in or get too excited if they make a save, because instantly here comes the next ball. Fun way to see who works well together under pressure, in a small space!
* WHAT IS YOUR FAVORITE THING TO WORK ON INDIVIDUALLY TO IMPROVE YOUR GAME?
* Quickness. Whether it's footwork alone, or getting your feet and hands connected for lacrosse specific movements, or finding a way to release the ball faster to be that one step ahead when you play, I love it all. Creativity as well. Whether it's the acting you can do with the ball or off ball to throw off your defender, a new stick skill to throw in while you play that makes sense to use with what's happening around you, or plays you come up with to get the ball in the back of the net. I love creating.
* WHAT WAS YOUR MOST MEMORABLE EXPERIENCE ON THE LACROSSE FIELD?:
* Positive most memorable: Going to the Final Four with UMaryland, playing in the Carrier Dome, but losing to Princeton that year. I only got to warm up and didn't play, but being there and feeling the energy, being with my team as we battled another great team, is something I always go back to in my mind. Every day of that year was special to me and I carry so much of that spirit with me when I coach and play now.
* Negative most memorable: I transferred to UMass and I'd say the second most memorable was being back in the Carrier Dome to play Syracuse, playing with a torn ACL I didn't realize was torn yet, and bringing it down to the wire with my teammates to almost come back and beat them, losing by a goal. My teammate accidentally brought a double team to me while I handled the ball and I got strip checked and they went down the field to score the final goal.
* WHAT IS/WAS YOUR FAVORITE QUOTE/ SAYING?:
* "Hard work beats talent when talent doesn't work hard."
* "You gotta believe."
* WHAT ADVICE WOULD YOU GIVE YOUNG PLAYERS TODAY?:
* Have a big vision for your life! Nothing about getting better and improving is quick. You have to set aside time for your own development and it's not just once a week. Take it upon yourself to dive in deeper to the things you want more back from. And when you do dedicate that time to it, be 100% focused on your task while you're in those pockets of time. Be deliberate in earning the things you want for yourself. What you put in you will get back. This is your journey – wring every drop out of the potential you have!