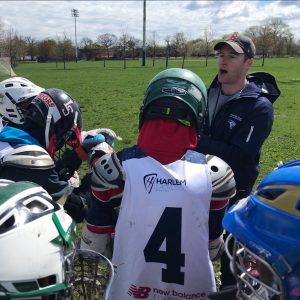 Meet Dan Hanley
-Falmouth HS Class of 2010 (2010 All-American)
-Bowdoin College Class of 2014 (2014 North-South Senior All-Star Game Selection)
-Coached at Hotchkiss School (CT) from 2015-2017
-Founded the Harlem Lacrosse Boston program at Mildred Ave School in Boston, MA
-Now teaching 9th grade history at Portland HS
IS LACROSSE STILL PART OF YOUR LIFE?  IF SO, HOW?:
Since, I graduated from Bowdoin, I have been coaching at middle school, high school, and club levels. For the last two years, I worked for Harlem Lacrosse-Boston, a non-profit organization that uses lacrosse as a way to engage students academically in underserved communities. Since moving back to Portland this summer, I have been playing every Wednesday in the weekly box game at the Portland Sports Center.
WHEN DID YOU FIRST KNOW YOU LOVED LACROSSE?:
When Coach Fay let me put a sticker on his lax van after I got 20 reps in a row on the lax wall.
WHAT DO YOU FEEL IS THE BIGGEST DIFFERENCE BETWEEN HS AND COLLEGE LACROSSE?
When I got to college,I realized that everything happened faster. I was fast, but I didn't initially have the stickwork or the lacrosse IQ to keep up with the speed of play.
 
IF YOU KNEW WHAT YOU KNOW NOW WOULD YOU HAVE CHANGED ANYTHING IN YOUR PREPARATION TO PLAY LACROSSE IN COLLEGE?

I would have pushed myself more to develop my stickwork, finishing,

 and shooting in high school. In high school, I probably relied too much on my speed and strength, and I didn't develop my other skills as much. I would play more and work on developing a more creative playing style.
WHO WERE YOUR GREATEST INFLUENCES/ ROLE MODELS IN LACROSSE?:
 John Fay- First coach in Falmouth Youth lacrosse, and mentor throughout my career
Mike Lebel- Falmouth HS coach
Tom McCabe and Jason Archbell- Bowdoin Coaches
Kit Smith- mythical Maine lacrosse legend
Owen Van Arsdale-  Harlem Lacrosse coach
WHAT WAS/IS YOUR FAVORITE DRILL?:
 "West Genny"- Continuous 3v2
WHAT IS YOUR FAVORITE THING TO WORK ON INDIVIDUALLY TO IMPROVE YOUR GAME? 
 My shooting
WHAT WAS YOUR MOST MEMORABLE EXPERIENCE ON THE LACROSSE FIELD?:
Beating Wesleyan in OT my junior year at Bowdoin. I took an ill-advised bounce shot from 20 yds out that somehow found the back of the net.
WHAT IS/WAS YOUR FAVORITE QUOTE/ SAYING?: 
"It's not the size of the dog in the fight, it's the size of the fight in the dog"
WHAT ADVICE WOULD YOU GIVE YOUNG PLAYERS TODAY?: 
 What makes lacrosse special to me is that it's a sport where you get out what you put in. To practice, all you need is a stick and a bag of balls. You don't need to pay for ice-time like in hockey. You don't need super-specialized coaching like in tennis or golf.  If you put the time in and get quality reps, you can make it to the next level. The Maine lacrosse family is tight. People will look out for you and help you succeed if they see you doing the right thing the right way.