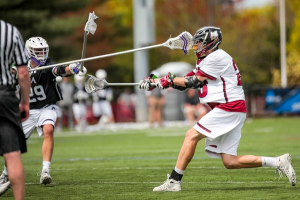 Meet Charlie Fay
Falmouth HS Class of 2013
Bates Class of 2017
NESCAC Player of the Year
3X All-American


IS LACROSSE STILL PART OF YOUR LIFE?  IF SO, HOW?:

It will never not be apart of my life! I'm about to start playing my 3rd season in a box lacrosse league around Boston. The league is filled with current MLL, PLL, and college guys. Once I have some more time in my schedule, I'll definitely be getting back into coaching. 
WHEN DID YOU FIRST KNOW YOU LOVED LACROSSE?:

I was introduced to lacrosse at a very young age because of my Dad's love for the game. I'm not sure I can pick out an actual time where I realized my love for the game, but I do remember being in awe by the genuine camaraderie that I saw among my Dad and his teammates at their summer tournaments. That was at a really young age, and I knew it was something I wanted to be apart of. 
WHAT DO YOU FEEL IS THE BIGGEST DIFFERENCE BETWEEN HS AND COLLEGE LACROSSE?

Stick-work and speed. I think these two probably go together because to play the game at a high speed you need to have really solid stick skills. If you're able to sling the rock around the perimeter and think one step ahead of the play then you'll be able to translate well into the college game. 
IF YOU KNEW WHAT YOU KNOW NOW WOULD YOU HAVE CHANGED ANYTHING IN YOUR PREPARATION TO PLAY LACROSSE IN COLLEGE?

I wasn't big into the weight room in high school. Defense-men are much stronger in college so it would have been nice to have been stronger my Freshman year to be more game ready.
 
WHO WERE YOUR GREATEST INFLUENCES/ ROLE MODELS IN LACROSSE?:
My Dad! He always used to score goals that blew my mind… I'm sure he could even still score some goals that would make people scratch their head wondering how he did that. Mark Matthews was another role model because of his size and silkiness 

WHAT WAS/IS YOUR FAVORITE DRILL?:

I always used to enjoy the "bad-passing drill". The point is to get comfortable handling tough feeds on the crease. You can have someone feed you about 10 balls (1 at a time) on the crease after a hard cut, but have them put it in the dirt, to high, or handcuff you… then from there you have to figure out how to get it in a corner as fast as possible 
WHAT IS YOUR FAVORITE THING TO WORK ON INDIVIDUALLY TO IMPROVE YOUR GAME? 

Wall ball. It's almost meditative to an extent and I think it's one of the most important things you can do to improve. I also have a Spotify playlist called 'Wall ball' that has grown through the years and I always get excited to turn it on and hammer the ball off the wall. 
WHAT WAS YOUR MOST MEMORABLE EXPERIENCE ON THE LACROSSE FIELD?:

The first time we beat Tufts when I was at Bates. They were defending national champions and ranked #1. It was a surreal experience and showed us as a team that we could play and win against anyone.  
WHAT IS/WAS YOUR FAVORITE QUOTE/ SAYING?:
                                               Control the controllable 
WHAT ADVICE WOULD YOU GIVE YOUNG PLAYERS TODAY?

Hit the wall! The game gets sooo much more fun the better your stick is.